When a person hears the term "audit", the first association is related to paper documentation requested, reviewed, and analyzed by the audit department on a regular basis or in case of fraud or abnormal activities. Nowadays, when all businesses are striving to go digital, audits are actually directly linked to software, IT infrastructure, actions on data in an electronic format meaning all information and evidence have to be ensured by different means – secured electronic means. In other words, here is where the audit trail comes in. But what is an audit trail exactly?
What is an audit trail and why is it important to have
An audit trail is a register of every action, event, or activity a user or a system did with your data. Thus, it can be related to creation, modification, deletion of records, or can be a sequence of automated system actions (Syslog). Of course, the daily volume of audit logs can vary from hundreds for small organizations to hundreds of thousands in large organizations making it very complex to track. Therefore, a solution for automated tracking is good, even obligatory to have. 
The audit trail is crucial for any organization because:
Compliance – you are actually required to have an audit trail. Learn more here
Internal fraud

– too many systems or too many users accessing your data. In any case it is quite challenging to keep track of all the activities because it's time-consuming, consumers resource too, not to mention the hidden risks if it's not done in the right way

Data breach – with every year passed, cybercriminals are getting more active and more inventive. In case you work with sensitive data, and yes, personal data is highly sensitive, the risk of data breach is almost 30%. Not that small to be neglected, right?

What are the different solutions for audit trail
Every company should make a decision on how to store and track the audit trails. So here are some of the possible ways to do so:
Using the already existing functionalities and capabilities of your software

and track what is happening with the data. The bigger the organization is or the more softwares it uses, the more complex it becomes to do something meaningful with the information from the audit trail, not to mention the resource required in terms of staff and time, too. So with such an approach you are not able to see everything in one place and do correlation analysis poses a lot of challenges, not to mention it is required by many regulations and security standards.

Security information and event management (SIEM) software

– the most common enterprise logging solution which aggregates your logs and provides insights and detects threats. It could also be a challenge to structure the information in the SIEM and it requires a lot of expertise, depending on the product. Find out

here

how

SIEMs typically address the issue of log integrity and whether it's sufficient.

Generic log collector

– often open-source product, widely used by companies. Although this solution is very useful for application developers, it is not designed for audit trails. This type of log collectors are good to collect access logs and structuring the data. However, it is not an audit trail by design.

Security platform all-in-one

– a generic solution that includes all mentioned above (for instance, SIEM, general log collector, IoT, etc) but the audit trail option is limited. And the security of the audit logs is not guaranteed again. Managing this platform can also require a lot of internal resources being a software-for-all.

Custom solutions

– developed internally, or by hiring a specialized company to develop it. This option can be very costly and the most time-consuming.

Dedicated audit trail solution

– designed for the purpose, has the proper integrity guarantees. This solution can fit in large organizations as well as small companies. You can find out more about LogSentinel

blockchain-protected secure audit trail

solution in the last section of this article.
Furthermore, detailed information on the log collector options you can find described by our CEO here.
What can audit trail be used for
Once having an integrated and secure audit trail, the logs you collect and aggregate can be used for different business purposes. In this paragraph, we are going to list them:
Information security

– identify that something wrong has happened. This happens only in case you are using a secure way to store and track activities related to information security

Regulatory compliance

– keyword "

Secure":

to ensure your logs comply with most of the standards and regulations, you need to have tamper-evident, secure audit logs in place. More insight you can also read below.

Digital forensics

– find out who did what and when and be able to prove it. This is especially crucial where lawsuits are involved.

Data integrity

– when using the right technology the audit trail can allow you to reconstruct the data that was modified and the time it was modified, so that you know which backup to use, relying on the data provided in it.

Business Analysis

– logs, when generated and collected properly, contain all the necessary data for business processes because most business processes take place or are reflected in information systems nowadays. 

Fraud & Anomaly Detection – when using the appropriate secure audit trail solution, that captures all business-related activities from all systems, any organization can make fraud detection easy in real-time.
Why is the integrity of the audit trail crucial
Nowadays, every company claims it has implemented strong data security measures in order to keep business activities moving in an optimal and risk-free way. Due to that data security is a hot topic, but actually data integrity is what stands in the heart of this practice. The company should make sure the data remains immutable during the whole lifetime of operations with this piece of data. Moreover, in the case of fraudulent activities, internal or external, this principle is going to save most probably companies' reputation, time, and cost in the long run. 
But if you are still not convinced data integrity should not be ignored, read the 3 reasons not to ignore data integrity, which our CEO has convincingly described.
Compliance – Standards and regulations requiring a secure audit trail
Audit trail is at the heart of every standard and regulation published in the past decade or so. Regardless if we are talking about security in general, data privacy, secure transactions, or integrity the audit trails has to be in place, secure in an indisputable way. Of course, depending on the industry different compliance requirements are in place – starting from PSD2, PCI DSS, GBLA in the finance and fintech companies, then FISMA, SOX, etc for the public sector, HIPPA and DiGAV for health sector and, of course, the main cluster affecting all the industries – GDPR, ISO 27001, NIST Directive, CCPA. So which one are you interested in? Let us know and we can help.
| | | |
| --- | --- | --- |
| Standard/regulation | Industry | Region |
| GDPR | All industries | EU |
| PSD2 | Finance and Fintech | Global |
| PCI DSS | Finance and Fintech | Global |
| ISO  | All industries | Global |
| NIST | All industries | USA |
| HIPPA | Health sector | USA |
| SOX | Public sector | USA |
| GLBA | Finance and Fintech | USA |
| CCPA | All industries | USA |
| FISMA | Public sector | USA |
| EBA | Finance and Fintech | EU |
| DiGAV | Health sector | Germany |
If you want to find out exactly how LogSentinel's secure audit trail solution can help you comply with these regulations, you can also refer to these mappings between our functionalities and the specific requirements you need to meet:
Audit Trail - Benefits Across Teams
Yes, having a secure and properly collected audit trail is crucial for information security purposes but once you have it – you can do so much more with it. For instance, you take full control of your data with visibility across all the users in your organization in order to execute correlation analysis and advanced analysis for business process management. Also by having a dashboard with visualization of usable real-time data you can provide access to responsible employees within your organization in order to mitigate your operational and reputational risk. The topic and importance of the audit trail can be viewed from a different perspective by the companies' teams, too.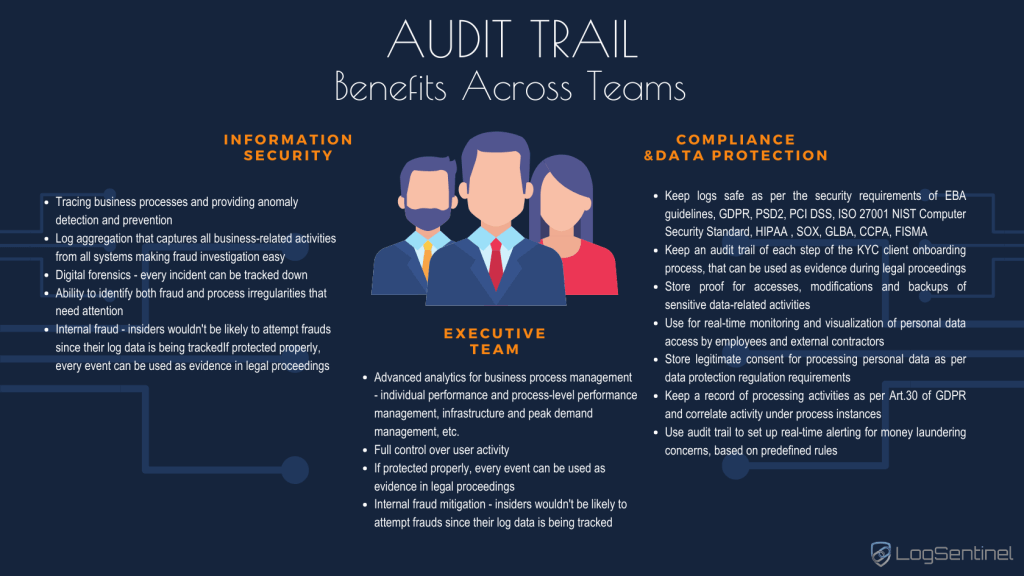 How Every Team Benefits From The Audit Trail:
Advanced analytics for business process management – for example, individual performance and process-level performance management, infrastructure and peak demand management, etc. 

Full control over user activity 

If protected properly, every event can be used as evidence in legal proceedings, too 

Internal fraud mitigation – insiders wouldn't be likely to attempt frauds because their log data is being tracked
Secondly, Information Security Team
Tracing business processes and providing anomaly detection and prevention Log aggregation that captures all business-related activities from all systems making fraud investigation easy

Digital forensics – every incident can be tracked down 

Ability to identify both fraud and process irregularities that need attention

Internal fraud – insiders wouldn't be likely to attempt frauds because their log data is being tracked

If protected properly, every event can be used as evidence in legal proceedings, too
Thirdly, Compliance Team and Data Protection Officer
Keep logs safe as per the security requirements of EBA guidelines, GDPR, PSD2, PCI DSS, ISO 27001 NIST Computer Security Standard, HIPAA , SOX, GLBA, CCPA and FISMA

Keep an audit trail of each step of the KYC client onboarding process, that can be used as evidence during legal proceedings, too 

Store proof for accesses, modifications and backups of sensitive data-related activities

Use for real-time monitoring and visualization of personal data access by employees and external contractors 

Store legitimate consent for processing personal data as per data protection regulation requirements 

Keep a record of processing activities as per Art.30 of GDPR and correlate activity under process instances

Last but not least, use audit trail to set up real-time alerting for money laundering concerns, based on predefined rules
LogSentinel SIEM - how our product gives you all that and beyond
Compliance conscious organizations that are fully aware of the complex challenge to protect their critical data should evaluate options for a dedicated audit trail solution or integrated audit log functionality into a SIEM product. And LogSentinel's innovative approach solves the issue of keeping the integrity of the audit trail intact using legally sound cryptographic techniques. We built our solution on the mechanisms underlying blockchain technology so you can be certain no one can ever temper with the audit trail. LogSentinel's solutions also helps clear compliance with multiple standards and regulations, such as GDPR, PSD2, PCI DSS, ISO 27001 NIST Computer Security Standard, HIPAA , SOX, GLBA, CCPA and FISMA.
What makes us different you would ask? And here is what:
We give you Unmodifiable Evidence based on blockchain technology which prevents audit trail changes or deletion even by privileged users.
Regulatory Compliance

regardless of the industry and the region of your operations.

S

tate-of-the-art AI Anomaly Detection module which helps you to analyze every activity happening in real-time leading to guaranteed improved information security.
Intuitive dashboard for full visibility, traceability and auditability of all internal.
Processes across all systems, giving you actionable insights and relieving audit and reporting.
So if you are looking to secure the audit trail of business-critical activities in your systems, book a demo for LogSentinel SIEM.
Like this article? Share it with your network!
Denitsa Stefanova is a Senior IT Business Analyst with solid experience in Marketing and Data Analytics. She is involved in IT projects related to marketing and data analytics software improvements, as well as the development of effective methods for fraud and data breach prevention. Denitsa supports her IT-related experience by applying her skills into her everyday duties, including IT and quality auditing, detecting IT vulnerabilities, and GDPR-related gaps.