Cybercrime can look different for every organization, and consequences could vary. The dangers of cyberattacks don't limit only to hackers stealing personal or company information — they can also be expensive. The cost of recovering from a cyber-attack can be costly or put organizations out of business.
In the middle of 2022 cybersecurity concerns are still the number one priority in most organizations. We've gathered the top 6 cybersecurity trends in mid-2022. 
Zero Trust 
What is Zero Trust?   
Zero Trust is a security framework for the digital world.  Every person or device attempting to access resources on a private network must be authenticated, authorized, and continuously confirmed for security configuration. Zero Trust assumes the principle of "never trust, always verify".
The IT industry relies on perimeter security strategies to protect valuable resources. These security strategies involve using firewalls and other network-based tools to inspect and validate users going in and out of the network. 
Zero trust addresses the security needs of the data-driven hybrid cloud environment. It provides organizations with adaptive protection for users, data, and assets. And the ability to manage threats proactively.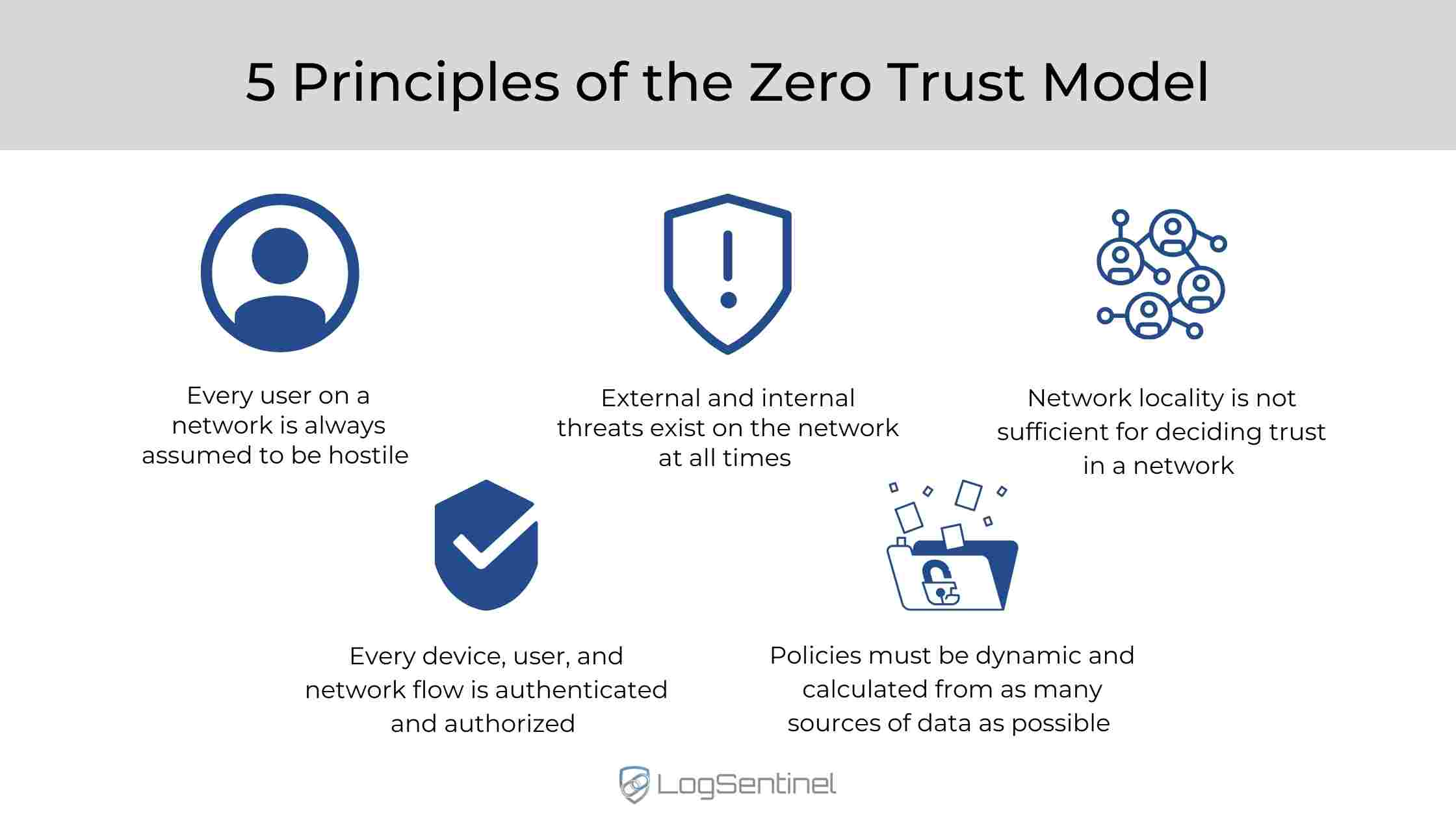 How does Zero Trust work?  
Zero Trust assumes everything is malicious by default. It combines technologies like multi-factor authentication and identity protection, continuously validating every stage of digital interaction. This way, the user or the system's identity is verified whenever there's a new access attempt. Zero trust safely connects users and devices using business policies over any network.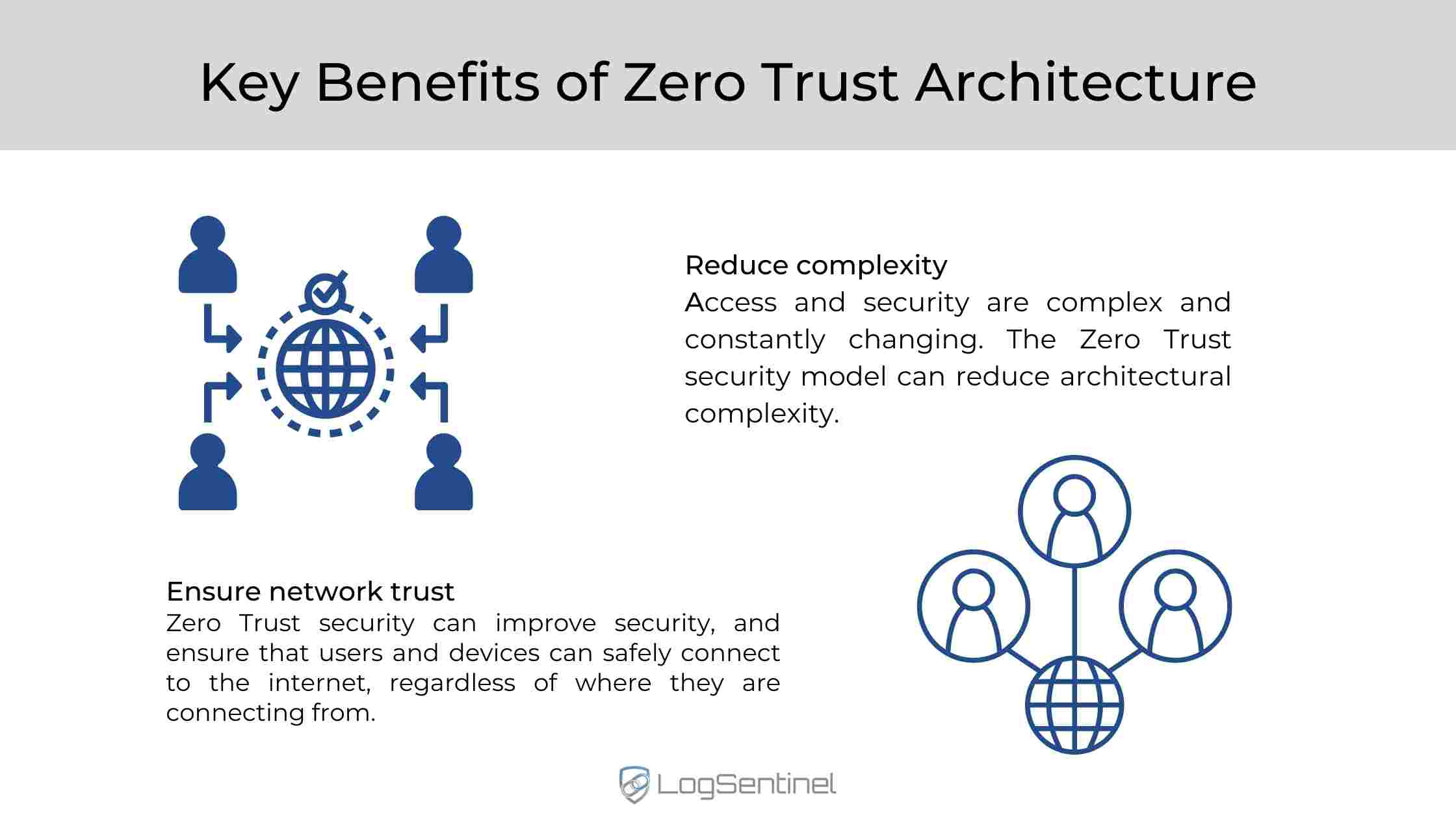 Awareness and user training
10% of SMBs go out of business after experiencing a data breach.

Source: National Cyber Security Alliance
85% of data breaches in 2021 were due to the human element

Source: Verizon 2021 Data Breach Investigations Report
In the past, cybersecurity training sessions were usually organized for IT security specialists. Nowadays, all employees need to be educated in cybersecurity best practices.   
Cyberattacks have been increasing rapidly in the last few years. Regular cybersecurity training sessions are implemented in many organizations. The current focus of most security awareness training is on phishing: Users click on a malicious attachment or URL and leave the organization vulnerable to further malicious acts from the hacker who sends the phishing email.  
Phishing tactics from cybercriminals have become more sophisticated. For example – posting emails from trusted vendors, government agencies, and other authorities, or email addresses within the company. Hackers create clickbait subject lines designed to gain attention and be opened.   
The goal of cybersecurity training is to educate users, so they are less prone to become victims of hackers. It is important to test users frequently through phishing simulations to ensure that they are up to date with the latest phishing techniques.   
What is cybersecurity awareness training?  
Cybersecurity awareness training is a procedure of educating employees on how to protect themselves and the organization from malicious actions. This training provides the employees with knowledge of how to recognize threats and avoid potentially harmful actions.   
Why is cybersecurity training important?  
Most cybersecurity breaches are caused by human error. When employees have cybersecurity awareness training, they are more likely to become victims of malicious acts.   
Cybersecurity awareness training will increase employees' awareness levels and give them the practical skills needed to better protect the business from the dangers of data breaches, network attacks, and ransomware threats. 
GDPR Compliance  
What is the GDPR? 
General Data Protection Regulation (GDPR) replaces local data protection laws in every country of the EU. GDPR strengthens the rights of individuals to be able to control their data and how companies are handling it.   
What does the GDPR mean for cyber security?  
GDPR requires that personal data must be processed securely using appropriate measures. Data protection by design and default are included in the GDPR. It's mandatory when designing a new system, to make sure that data protection is considered from the beginning. It's important to give the individual a choice of how much personal data he shares with the organization.   
How to Achieve GDPR Compliance in Your Organization?
To prepare for the challenge of compliance, we have collected the best practices and security safeguards that will get data programs in your organization. You can check it out here – GDPR: Compliance, Best Practices, Security Safeguards.  
Cloud Security  
What is cloud security?  
Cloud security is a type of cyber security dedicated to securing cloud systems. This includes keeping data private and safe across the online infrastructure. Securing applications and platforms involves the effort of cloud providers and clients. Cloud security includes procedures and technology to address external and internal threats to business security.   
Security Concerns 
Major threats to cloud security include data breaches, data loss, and others. Maintaining cloud data security extends beyond securing the cloud itself. Cloud users must protect access to the cloud that can be gained from data stored on mobile devices or with login credentials. Another cloud security issue is that data stored on a cloud-hosted server in another country may be subject to different regulations and privacy measures.  
Vulnerability of IoT (Internet of Things)  
What is IoT?  
IoT is a network of interconnected devices, software, sensors, or people that are provided with unique identifiers (UIDs), with the ability to transfer data over a network without the need for human interaction.   
Type of risks from IoT devices?  
Many IoT devices remain unmonitored and improperly managed. Any time data is transferred, received, or stored, the potential for breaches increases. This is possible due to the lack of encryption and access control. For this reason, it is important to ensure the secure transfer and storage of data through network security management tools like firewalls and SIEM (Security Information and Event Management) software.  
Security-as-a-Service 
Security as a Service (SECaaS) is a cloud-based model for outsourcing cybersecurity services. Leveraging Security as a Service solution is popular for corporate infrastructures. It allows companies to use an external provider to handle and manage cybersecurity.  
SECaaS is a solution that helps an organization address any security issue without involving its security staff.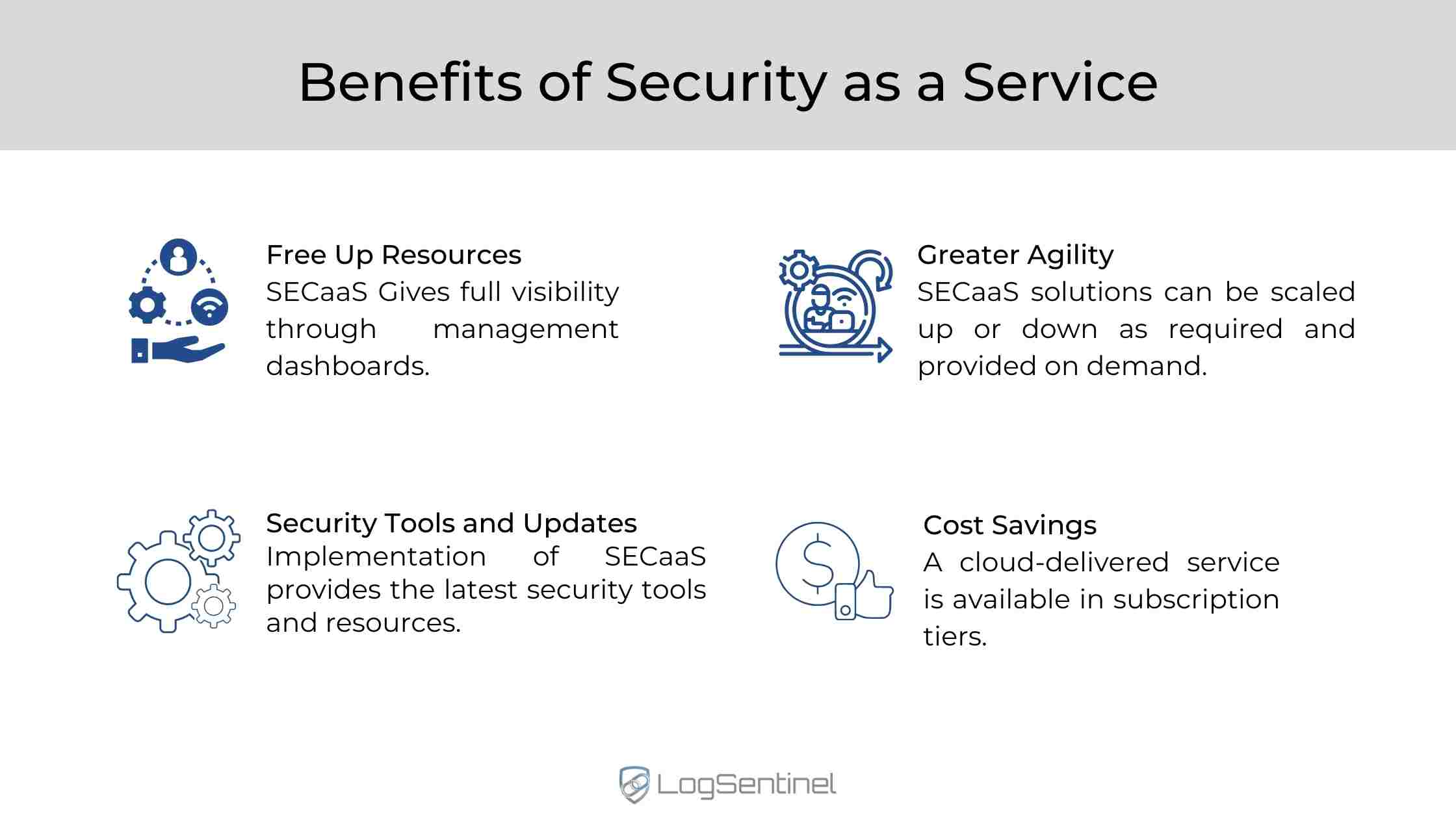 Most Managed Security Service Providers (MSSPs) leverage SIEM or XDR software to automate threat detection and minimize the risk of neglecting the security threats of their clients.
Sophisticated SIEMs like LogSentinel offer various options for security monitoring in real-time such as correlation rules, threat intel feeds integrations, integrations with leaked credentials databases, and others. SIEM software is often considered too costly by CISOs, and companies need to have dedicated security analysts that understand its features well to make use of it. That's why using MSSPs is a popular and affordable option preferred by most companies.
LogSentinel partners with many MSSP providers that ensure a real-time, 24/7 managed detection and response (MDR). LogSentinel has chosen some of the best MSSP partners from across the globe, ensuring world-class protection for their clients. If you're looking for a managed security provider to handle your cybersecurity issues, we from LogSentinel will be happy to connect you with our MSSP partner responsible for your region. Talk to us today and find out how you can secure your business at an affordable price: 
Like this article? Share it with your network!