Privacy-by-design (PbD) is an engineering and managerial approach taken when creating new technologies and systems. The term speaks for itself – you incorporate privacy measures at the design stage, so no matter the purpose of the system, it will always protect privacy by default. In that way, privacy becomes not only a feature but a part of the system. The underlying idea behind the concept is that companies should take in advance the effective technological and organizational measures to ensure the personal data they collect is automatically protected.
We, at LogSentinel, believe in privacy as a human right and, so our COO Anton Gerunov, Ph.D. has decided to put together two privacy-by-design ebooks to serve as a guideline for achieving full data protection.
The Essence of Privacy-by-Design
LogSentinel's free ebook "The Essence of Privacy-by-Design" reviews the PbD concept and answers an essential data protection question – why is privacy-by-design so important? The main reason is that we are physically unable to tackle the control and protection of our personal data – reading all privacy policies for the services we use would take 76 days a year on average. Something no one does, of course. This ebook reviews the seven principles of PbD and their application in various international data protection regulations such as GDPR and CCPA.
Moreover, it takes a quick look at the different definitions of the concept and the IT and organizational measures that need to be undertaken, so that the seven principles are successfully implemented. The ebook also reviews the reasons for the application of privacy-by-design and supports them with some strong examples of GDPR fines and statistics about the current data breach landscape.

Keeping Critical Data Safe with Privacy-by-Design
Privacy-by-design requires security to be considered and acted upon at the design stage of the data processing tool. Our second PbD ebook "Keeping Critical Data Safe with Privacy-by-Design" is focused on the implementation of the approach in practice. It covers the most efficient strategies and tactics for application and looks at the main factors in analyzing data security such as possibility and probability, for example.

The ebook covers the main reasons for the implementation of privacy-by-design and its use for incident management. Furthermore, it reviews the best methodologies for applications such as Scrum. Last but not least, it outlines the biggest challenges that organizations face during the application phase and how to easily overcome them.
About the Author
Anton Gerunov is co-founder and Chief Operations Officer at LogSentinel, award-winning cyber security company. He is an expert in data analytics, artificial intelligence, risk management and business modeling with more than a decade of experience in both the private and public sector. Anton holds a Ph.D. degree in Economics and is currently an Associate Professor of Risk Management at Sofia University. He is the author of numerous articles in international and national peer-reviewed journals, monographs, and has presented at a number of conferences and webinars.
Conclusion
We are all aware that good security is the key to privacy. Without it, personal data can be easily affected and it is no coincidence that the greatest risks to privacy are traditionally associated with information security. If you'd like to hear more about how we can help you eliminate risk and cover all data protection regulatory requirements, just book a demo:
Like this article? Share it with your network!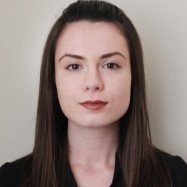 Denitsa is a Digital Marketing Analyst at LogSentinel with strong interest in the field of Information Security. She has 5 years of valuable experience in the field of Digital Marketing and Public Relations. Denitsa holds a degree in Journalism from Birmingham City University and has passed various Digital Marketing masterclasses and courses.