28th May 2021
Sofia, Bulgaria – LogSentinel, the innovative provider of cybersecurity solutions, announced that its participation in the project for support and growth of small and medium enterprises (SMEs) through the implementation of voucher schemes by BSMEPA has ended successfully.
IrisSolutions, a local provider of open banking services, was shortlisted to receive top-notch information security services by LogSentinel. LogSentinel's team of highly qualified experts managed to quickly integrate one of their innovative solutions, SentinelTrails, into the entire IT landscape of IrisSolutions, helping them to achieve the highest level of information security, thanks to modern technologies such as blockchain and AI. As a result of the seamless collaboration, amazing outcomes were achieved in favor of IrisSolutions in three main areas:
detection of threats and suspicious activity across all their systems,
achieving full log integrity and legally sound digital evidence,
management and optimization of work processes by monitoring all business events in real time.
"We, at LogSentinel, are very well-aware of the high complexity and scope of the current cyberattacks. Therefore, our main mission is to help the most vulnerable organizations – the SMEs – to stay safe and compliant. Working with the highly motivated team of IrisSolutions was a pleasure for us and I hope that we will continue doing business together," shared Dr. Anton Gerunov, COO of LogSentinel.
The integration of SentinelTrails has helped IrisSolutions not only to minimize the risk of inside and outside attacks but also to achieve indisputable compliance with all applicable legal regulations such as Regulation (EU) 2016/679, as well as The NIS Directive.
The project was under procedure BG16RFOP002-2.015 – Growth and support of SMEs through the pilot implementation of voucher schemes by BSMEPA under the Operational Program "Innovation and Competitiveness" 2014-2020: Voucher scheme for the provision of information and communication technology services (ICT) – Voucher type 3, group 1.
About LogSentinel
LogSentinel delivers robust and reliable information security products designed to protect against data breaches and insider attacks, as well as ensure the highest level of regulatory compliance. LogSentinel's mission is to help organizations of all sizes improve their information security posture by leveraging the latest technologies including blockchain and AI.
About IrisSolutions
Iris Solutions is a licensed payment institution by the Bulgarian National Bank and holds a European Payment Service Provider license in accordance with the Second Payment Services Directive (PSD 2). Their main mission is to create an accessible and secure digital environment that connects the business and its customers.
Contact
Denitsa Dimova
Press Officer and Digital Marketing Analyst at LogSentinel
E-mail: denitsa.dimova@logsentinel.com
Like this article? Share it with your network!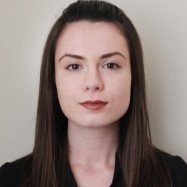 Denitsa is a Digital Marketing Analyst at LogSentinel with strong interest in the field of Information Security. She has 5 years of valuable experience in the field of Digital Marketing and Public Relations. Denitsa holds a degree in Journalism from Birmingham City University and has passed various Digital Marketing masterclasses and courses.