SIEM and XDR for Managed Security Service Providers
Provide managed SIEM and SOC-as-a-service with ease
Organizations are adopting a managed security approach that combines several benefits: the trust that they have in their local provider, the availability of highly efficient but complex security tools and avoiding the shortage of trained security experts.
Managed security service providers (MSSPs) are thus tasked with providing efficient cybersecurity monitoring and response service without most of their revenue going away for licensing.
LogSentinel is built with MSSPs in mind – we have predictable and affordable pricing and offer deployment and management flexibility.
Serve multiple customers from a single deployment with flexible multitenancy models and data segregation

Add your logo and preferred styling to our SIEM and XDR, regardless of the deployment type and license size

Use our SaaS on a custom domain, deploy it on your cloud or on-premise – it's entirely up to you

User Interface Localization
LogSentinel SIEM and XDR MSSP Use Cases
Get LogSentinel SIEM and XDR at the heart of your SOC to serve multiple customers
Allow your customers to fully outsource their SIEM and XDR management
Flexibly share the SIEM and XDR management with the customer for improved results
Help customers achieve and retain compliance by regular compliance reports
LogSentinel Pricing Model for MSSPs
LogSentinel gives you an intuitive pricing affordable for any MSSP. 
No need to pay extra

–

the

license includes all of LogSentinel SIEM and XDR features

– log collection, threat detection, incident response, behavior analytics, honeypot and more. 
Predictable pricing

– we do not rely on fluctuating or irrelevant metrics like volume of your data or events per second. Instead, we price

per active user
Free SIEM and XDR solution for the first 50 users
Ensuring ROI based on saved IT effort and reduced risk 

The price scales down to accommodate smaller MSSPs, but also

cascading discounts apply after 250 users.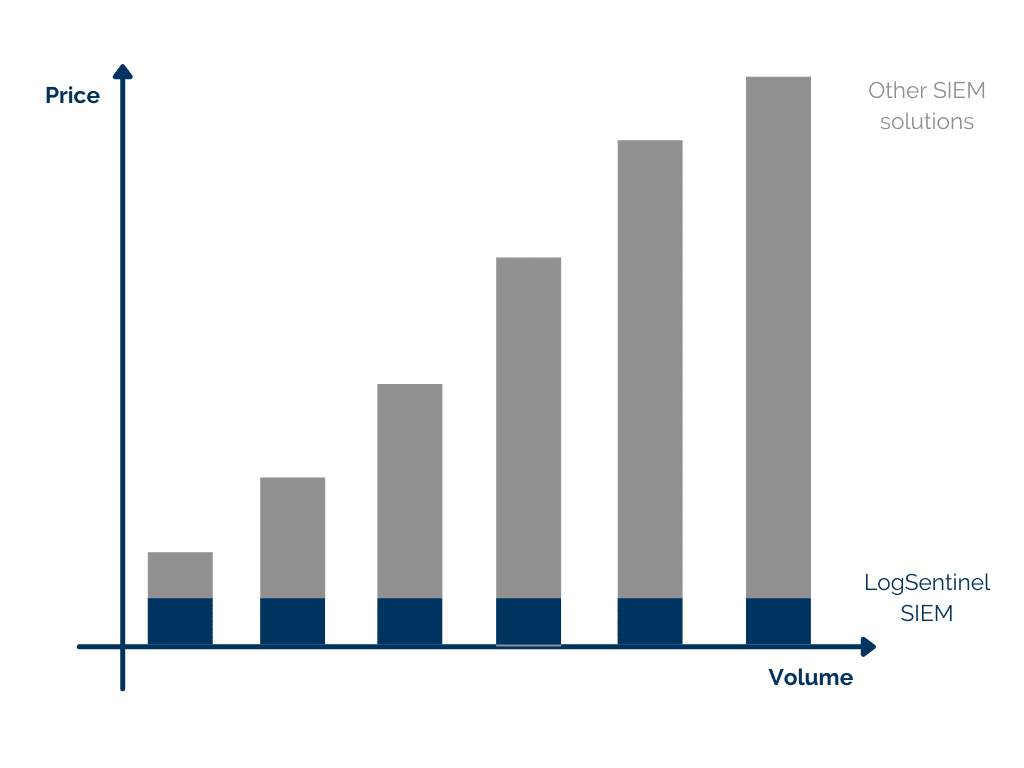 If you would like to clear compliance and boost the information security of your business, using a next-gen SIEM and XDR, that combines log management, behavior analytics (UEBA), threat detection and incident response into a complete security monitoring platform, get in touch now!